Landscape Lighting Services in Dallas TX: 972-418-6998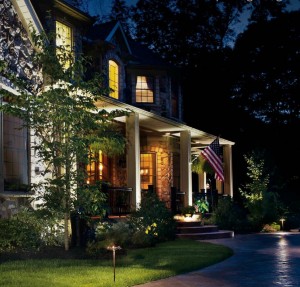 Dallas-area families know how great it is to entertain during those long summer nights. However, without proper outdoor lighting, you will be left out in the dark.
Contact Andy's, the area's best Dallas lighting design company.  We carry the newest technology to improve the safety, security, and value of your home or business.  An outdoor lighting system offers extensive advantages beyond those of outdoor entertainment after the sun goes down. With more lighting around your home, it acts as a deterrent for crime. It also boosts the curb appeal of your home, leading to higher property values. Give us a call and let us help illuminate your landscape.
Once you give us a call, we will make an appointment to come out and look at your property. Our licensed lighting professionals will sit down and consult with you on which areas we believe would benefit from proper lighting.  We will work with you to make sure your lighting needs are met. We are well versed in all product specifications for the products we use, as well as proper installation and safety compliance. After the installation is complete, we will always be a phone call away if you have any concerns, questions, or just need routine maintenance.
Contact us for a FREE complimentary lighting quote and demonstration.
At Andy's Lighting of Dallas, TX, we do extensive research and only carry the best landscape lighting products we can find. We install lighting products that not only compliment your landscape, but also are energy efficient, saving you money.
Upgrade or Repair Existing Outdoor Lighting Systems
If you have an existing outdoor lighting system but aren't 100% satisfied, give us a call. We can help you upgrade your existing system. At Andy's, we can also repair existing landscape lighting fixtures.
Call Andy's Dallas outdoor lighting today, or make an appointment online.